PKF International Event News • 2021-07-09
PKF International concludes Asia Pacific Regional Meeting
This year's virtual Asia Pacific (AsPac) Regional Meeting took place from the 6th – 8th July and welcomed over 660 attendances from 38 different countries.
The three-day event included a strategy update from PKF International CEO, Theo Vermaak, and AsPac Chairman, Vincent Chew, and a warm welcome to the new member firms that have recently joined the network. Attendees enjoyed the opportunity to collaborate during breakout sessions and panel discussions and participated in lively debates on effective client engagement and post pandemic recovery plans.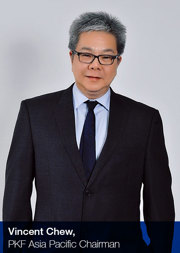 PKF AsPac Chairman, Vincent Chew, said: "Despite travel restrictions, the PKF International team and Regional Board have been working very hard to drive engagement within the AsPac region. We continue to provide training through our online learning and development platform, PKF Hub, and look forward to introducing face-to-face meetings when global lockdowns ease."
PKF International CEO Theo Vermaak added, "I am grateful for the level of participation from throughout the Asia Pacific region, and further afield! The power of the PKF network is unleashed when we share - learning from each other, exploring opportunities together, and combining the best thinking from the brightest minds, with the ultimate goal of serving our clients better."
This year, one of our core themes addressed the need for member firms to diversify their service offerings. Diversification is key to managing the risk of being over-reliant on traditional services typically offered by accounting firms, and new and varied revenue streams can be easily tapped into through the expertise and experience available through the PKF network of member firms. This session emphasised the need for client commitment  and the importance of a client-centric behaviour.
Regional Meetings form part of PKF International's ongoing efforts to deliver high-quality, engaging, and relevant virtual events to PKF member firms to unite them in their ambitions as part of the PKF family.
See more PKF International Event News items