Network News • 2019-10-01
PKF-FPM Secure Best Mid-Tier Firm for Third Consecutive Year at British Accountancy Awards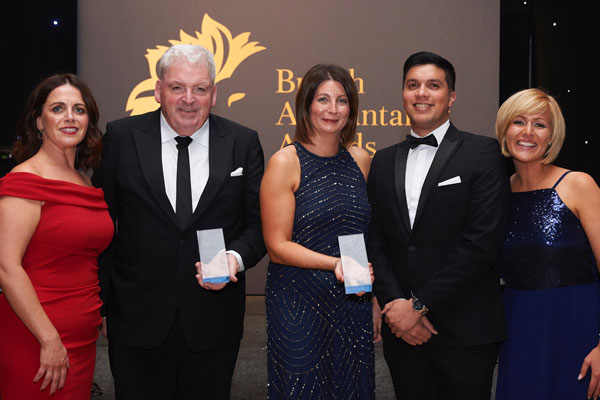 Pictured left to right – Team PKF-FPM members Ciara McFerran People & Culture Manager, Feargal McCormack Managing Director, Teresa Campbell People & Culture Director, Ashok Thomas Business Advisory Senior Manager, Caroline Preston Business Development Manager.
Leading accountancy practice, PKF-FPM, part of the PKF International network, with offices north and south of the Irish border, proved again to be leading their sector when awarded two of the most sought-after honours at the British Accountancy Awards Gala, which took place on 25 September 2019 in Grosvenor House Hotel, London.
The magnitude of taking home these awards, namely Mid-Tier Firm of the Year and Best Employer compliments recent Irish honours bestowed to PKF-FPM for Industry Excellence – Large Firm of the Year. This UK and Irish excellence enables PKF-FPM to guide businesses through Brexit, understanding their needs on both sides of the Border.
The British Accountancy Awards 2019, hosted by Sean Lock, saw its largest number of entries yet.
On receiving the awards, PKF-FPM Managing Director, Feargal McCormack commented, 'It's a significant honour to be recognised as the UK's Best Mid-Tier Firm for three years running. We attribute this accolade, alongside the Best Overall Employer in Accountancy recognition, to our passionate Team in PKF-FPM, who work tirelessly to exceed client expectations and provide best in class solutions.'
PKF-FPM were represented at the awards by a cross section of team members, including: Feargal McCormack, Teresa Campbell, Ashok Thomas, Caroline Preston and Ciara McFerran.
See more PKF Global news items