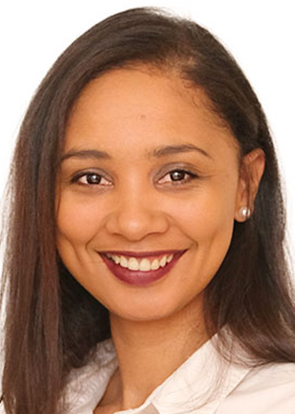 Patricia Andrews

Tel: 021 713 8400
Email: Patricia.andrews@pkf.co.za
Professional Experience
Patricia completed her articles at the firm where she was promoted to Audit Manager in 2011 and appointed as a director in 2015.
Patricia represents the firm on the PKFSA Professional Standards Committee and is very involved in training. She is also a qualified assessor.
Her expertise is External Auditing and is also the favourite part of her job. Being creative and designing out-of-the-box audit procedures is what she loves most. Patricia is motivated by working under a deadline as she sees it as a challenge rather than a hurdle.
Industry Expertise
Professional Audit standards and ethics
International Financial Reporting Standards (IFRS)
IFRS for SME
Attorney's Trust Account Audits
Estate Agent Trust Account Audits
Professional Qualifications
B Accounting – University of Stellenbosch
B Compt (Hons) – UNISA
CA(SA), RA
Visit office